WELCOME TO POLYFECT PIPE SALES – YOUR PERFECT POLY SOLUTIONS.
At Polyfect Pipe Sales we only deal with premium quality PE100 Polyethylene pipes manufactured to AS/NZS 4130 standards and delivered direct from the manufacturer to your desired destination.
With pipe sizes ranging from 90mm to 1200mm in diameter Polyfect Pipe Sales has your bulk poly pipe requirements covered. Bulk pipe lengths are available in 20-meter and 15-meter lengths to help reduce your welding costs or also available in the standard 12-meter lengths.
Pressure ratings range from PN4 PE100 pipe commonly used in Flood / Surface irrigation, right up to PN25 PE100 pipe for that super high-pressure pipeline or spray irrigation system.
To arrange your pipe quote please fill in our quote enquiry form or if you need some assistance with pipe sizes Steve is always available with his years of experience on 0488 506 171
Polyfect Pipe Sales looks forward to assisting you with your up-coming poly pipeline project!
WHAT POLYFECT PIPE SALES CAN DO FOR YOU.
Polyfect is always looking for expressions of interest from landholders to have their irrigation pipeline designed free of charge which will include estimates for:
PIPELINE SIZING FOR PUMPING EFFICIENCY.
PIPE SUPPLY COSTS DELIVERED TO SITE.
ON SITE WELDING COSTS.
VALVES & FITTINGS.
PUMPED OR GRAVITY FLOW RATES.
ENERGY COSTS PER MEGALITRE.
There are no obligations with this offer, and it is merely a starting point to help irrigators improve or update their current irrigation infrastructure. We are open to discuss any concerns you have and understand the need for irrigators to consider their own circumstances to assess and determine what productivity gains can be made before moving forward with these types of major investments.
Polyfect will design Polyethylene pipelines to suit any application for Surface & Spray Irrigation and would appreciate hearing from all types of growers to assist with the design of your next irrigation pipeline.
No matter where you are located, we will come to you to assess your site and discuss the pro's & cons of pipeline projects.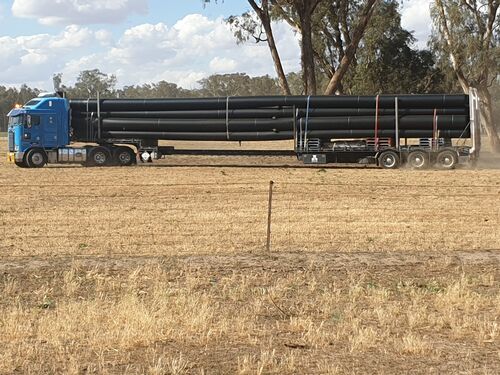 THE VERSATILITY OF POLYETHYLENE PIPE.
Have a look through our pictures and videos of how versatile Polyethylene pipe can be. If there is anything we can help you with technically or advice on installations please give Steve a call on 0488 506 171 or email steve@polyfect.com.au with your enquiries.